Sugar Plant & Spares Turbo Generators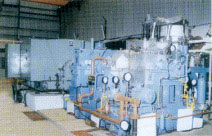 Uptill now we have supplied around 50 Turbines back pressure with woodwork 505 Governing system and AVRS suitable for grid paralleling. We have very good relation with turbogenerator manufacturers as we regularly use them in our projects. We can supply indigenous / imported turbo sets along with sugar on turn key basis.
These include turbines operating from 21 Kg/cm² steam pressure to 105 Kg/cm² pressure & capacities ranging from 1 MW to 30 MW to suit captive consumption as well as co-generation needs.