Sugar Plant & Spares MILLING TENDEMS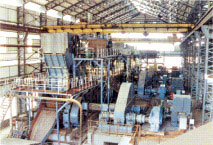 We have always stood apart on the strong foundation of engineering, experience and enterprise. We have indigenously designed a complete sugar mill, meeting world class standards, the integral five/six roller mill up to 42"×84" size.
The milling tandems are available with drives at the option of the client and offer complete flexibility.
We has a capacity to design an economic and extraordinary milling plant of any capacity.
Single milling tandem of 12000 TCD capacity at Jawahar S.S.K.,Kolhapur.