Sugar Plant & Spares The SSTRPF / SSTRPF System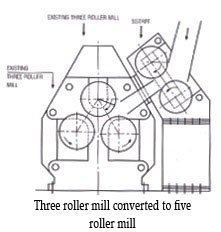 Although TRPF / GRPF milling system increases the crushing capacity, it is experienced that conventional TRPF / GRPF technology, which is developed abroad, is not convenient in India. Since it requires extensive modifications in the foundations, drives, gearing. It also has long pressure chute, which results in larger contact angle and uneven mill feeding.
We have developed SSTRPF / SSGRPF System, (Short Space Toothed Roller Pressure Feeder) which has removed all the drawbacks in the imported technologies. It provides smaller contact angle, reduced length of pressure chute, economic power consumption and better mill feeding, which gives increased crushing rate and better juice extraction.
Conversion from 3 roller to 5 roller mill with SSTRPF or SSGRPF is done with minimum work of shifting, drive gearing and the foundation changes.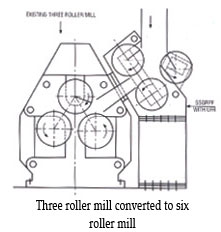 We, has done 150 such conversions of existing Three Roller Mills into Five / Six Roller Mills, so far.
The Sugar factories with SSTRPF fitted by SS Engineers, on 30" × 60" common Drive Mill Tandem has achieved a crush rate of over 4500 TCD @ 15% fibre, which os the highest in India with RME above 96%.