Sugar Plant & Spares long tube evaporators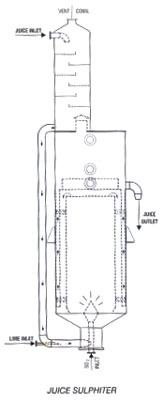 Our conventional Evaporators, the semi-kestners as well as the falling film evaporators incorporate many unique design feature which makes the system readily acceptable in the Sugar industry.
Advantages :
Maximum steam economy due to special vapour bleeding systems.
Increased capacity, by about 25% on account of higher heat transfer coefficient due to high velocity of juice in the tubes.
Reduced inversion losses due to less retention time of juice at high temp.
Energy saving due to no re-circulation pump in S.K. or conventional body
Less Space requirement.
Less scaling due to high velocities.
Easy to clean.
No entrainment of juice with vapours due to highly efficient 'save alls' & various baffler.
Higher vapour Pressure available for pan boiling on vapours.
Unique equitable wetting of tubes through innovative design of juice distributor nozzle for each tube for falling film evaporators.