Sugar Plant & Spares S.S. Fibrizers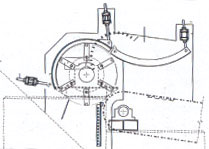 Swing Hammer; Semi Circular; Pocketed Anvil Fibrizers - Heavy Duty
Cane preparation is the key to reduce milling losses.
Earlier fibrizer had 32 nos. fixed hammers and 90º anvil, for a 30" × 60" milling tandem which gave cane preparation index of 75.
Today, for the same tandem, with improved S.S. Fibrizer having swing hammers, pocketed anvil and high speed drive, delivers cane of preparation index of above 85.
Critical placement of rotor & carrier shaft provides maximum grating arc, while rightly positioned self balancing discs & hammers do not leave uncut cane piece. SS Fibrizer can easily be installed on existing can carrier. This is advantageous as against the trouble prone shredders, which results in to uneven can feeding.