Sugar Plant & Spares Super Structured Mills (Five / Six Roller Integrated) (Panened Mill)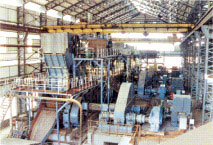 The super structured Mill designed by us, is an answer to the problems of existing Five / Six Roller Mill designs offered by other mill manufacturers. The disadvantages of long pressure chutes, large contact angles and complicated construction, which result into low efficiencies , more power requirement, low efficiencies, more power requirement, operational and maintenance problems of the mill, are well taken care off, in our Super Structured Mills.
Unique Features
The feed roller can be easily removed without dismantling the pressure chute or pressure feeder unit. ( Top & Discharge rollers can also be removed, as usual).
Extremely short pressure chute.
Least possible contact angle which leads to efficient mill feading.
Lowest power consumption for given crushing.
Least apex angle of mill.
Compact, simple and robust design (All the 5 / 6 Rollers mounted on the same monolithic headstock).
Extra space between millcheeck inside face and roller shell face for juice drainage from sides.
Juice sealing ring arrangement for roller bearings.
Lubrication arrangement from both side of bearings.
The super structured integral mill five / six roller type.
Lesser maintenance.
Split pins for easy removal and refitting.
Tailor made SS Mills (Five / Six Rollers) for the replacement of existing three roller mills, to suit the existing foundation.
Total engineering back-up.
Very high crushing rates with better extraction.
Standard Features
Free floating of top roller (or bottom roller).
Uniform pressure on bagasse blanket.
Uniform preset feeding with uniform preset load.
Feed roller movement for changes in setting does not disturb trash plate.
Wide variation in roller O.D. due to special design of crown pinions and headstocks.
The mill are guaranteed to offer extra crushing as to the conventional Five / Six Roller Mills. These super Structured Five / Six Roller Mills are an attractive proposition for replacement of existing mills or old head stocks, since custom built designs are offered to suit existing foundations. These mills could also be offered in "SELF SETTING" designs.