Engineering Products & Equipments Valves
Manifold & Guage Root Valves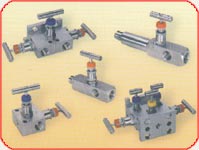 These Manifolds offer a safe and economical method of installation to control and measure pressure of liquids and gaseous media. They are ruggedly manufactured and precision machined to the most exacting dimensional tolerance to ensure perfect installation and application. These Manifolds are functionally installed to control, measure, isolate, equalize, calibrate, drain, vent or differentiate the pressure of liquids and gases. These Manifold series offer optional 2, 3 and 5 valves configurations which come in remote mounting (pipe to pipe), direct mounting (pipe to flange, flange to flange) onto the instrument on 2 1/8 (54mm) centre. Working Pressure upto 6000 PSI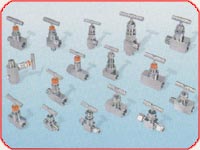 Needle Valves
Forged or Bar stock Body construction. Straight or Angle Pattern with Panel Mounting optional. Metal to metal or soft seats. Stem threads Rolled and hard plated and stellited (Vee Regulating one piece or non-rotating or non-rotating ball tip optional). Two piece Chevron packing offers zero leak, sealing over conventional packing design. Variety of end connection include single or twin ferrule tube fittings, male or female N.P.T. and I.S.O., DIN and JIS tapered pipe ends. Maximum Working Pressure upto 20000 PSI.
Tube Fittings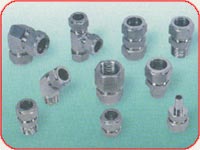 Instrumentation Tube fittings provides a zero leak proof seal which will withstand high pressure, impulse, vaccum, vibration and temperature. These feature offers highest safety and maintenance free smooth working guarantee. Each component on every tube fitting is precision machined to the most exacting dimensional tolerance, maintaining TQM practices throughout manufacturing process, thus confirms to ISO Quality Standard requirement of our customers throughout the world.
Tube Fittings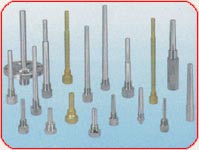 Thermowells are available in a variety of process connection in ½", ¾" and 1" NPT are most widely specified. Socket Weld, Raised Face Flanged, and weld in styles are also available. Bimetal Thermowells are provided with ½" NPSM instrument connection to allow for pressure relief within the thermowells. Thermowells are available in 'U' lengths from 1-1/2" to 28" & variety of materials includes Stainless Steel, Brass, Carbon Steel, Monel, Inconel 600, Titanium & Hastelloy C.